Network Infrastructure
Core of NICNET backbone is fully upgraded to multiple 10 Gbps capacity with sufficient redundancy. States are connected through multiple 1/10 Gbps links and districts 34/100 Mbps links with redundancy built at State and District links. Last mile redundancy for NICNET has been extended to more number of districts, with primary link from BSNL and secondary links from Railtel/PGCIL. Most of the Bhawan links at Delhi which were on 34 Mbps are upgraded to 100 Mbps and those on 100 Mbps are upgraded to 1Gbps.
Direct peering of NICNET with BSNL, PGCIL and Railtel are completed at Delhi and Hyderabad for saving Internet Bandwidth and faster access of each other's Network and Data Centre. Peering with Google, Microsoft and Akamai Content Delivery Network has facilitated faster access to Google services and other important International web sites. Re-structuring of Videoconferencing network has enabled to minimize delay and handle large scale important video conferencing such as PRAGATI of Hon'ble PM, GST Council Meetings by Hon'ble FM etc.
High speed Internet services are provided to national data centres to ensure that the applications hosted are accessible to users across the globe with minimum latency. Capacity planning and upgradation of Internet Gateway at regular interval has been undertaken to provide smooth Internet access to all NICNET users throughout the country. To maintain accurate timing and synchronization of all network elements and servers on the network Stratum-1 clocks are installed at Delhi and Hyderabad.
NIC VSAT Network NICNET has been offering satellite based VSAT Network services over Ku-band VSATs for providing Data and Video application.
NIC is also providing satellite bandwidth from NICNET pool for delivering e-governance services to VSATs of various projects of central/state government departments such as Rural, Taxation, Treasury, Finance, Health and Food supplies in geographically difficult locations where terrestrial connectivity is either not available or reliable. For running the VSAT services, NIC has leased transponder bandwidth from DoS/ISRO on the GSAT-18 satellite.
NKN
NKN empowers Digital India, as it is the primary backbone for all e-Governance initiatives in the country. It is the only network globally, that carries R&E, Internet and e-Governance traffic as independent verticals under one umbrella. NKN has multiple 10G links that are combining a core bandwidth of close to 1000G, providing secured and highly resilient connectivity across major Institutions for research, education and e-Governance.
NKN has a strong backbone connectivity with 31 Points of Presence (PoPs) in various State Capitals and 92 core links connected with meshed topology. Moreover, currently over 700 Gigabits (reaching a peak of 5 Petabytes) of data is flowing within the NKN backbone every day. Over 40 links (premium Institutes, SDC (State Data Centres) & SWAN of many states) have been upgraded to 10 Gbps. NKN has also established a High Capacity SCPC VSAT Connectivity at Kavarati, Lakshadweep and Port Blair, Andaman & Nicobar Island.
Data Centres
NIC provides Data Centers Services from National Data Centres at Delhi, Hyderabad, Pune and Bhubaneswar. National Data Centre (NDC) at Bhubaneswar is a Cloud-enabled data centre which has been offering cloud services to Govt. Departments since its inauguration during 2018. The cloud services are being offered on various flavors of cloud platforms backed by state-of-the-art infrastructure to support the DC operations. NDC Bhubaneswar is also offering co-location services by Govt. Organizations.
National Data Centre at Delhi was upgraded with high speed Network backbone, 1.6 Petabyte Enterprise class storage, high throughput Network Load Balancers, and Intrusion Prevention Systems. Solution for Backup as a Service & Storage as a Service has been implemented. ICT infrastructure of number of national level projects was hosted/enhanced; these include E-office, e-Courts and e-Transport. Data centres at Pune & Hyderabad are also upgraded with high speed network backbone and storage capacity enhanced. National Data Centre at Hyderabad is being renovated with a capacity of106 Racks.
National Cloud Infrastructure
NIC launched National Cloud Services in year 2014 under MeghRaj Government of India Cloud Initiative. NIC Cloud Services are being provided from multiple locations of National Data Centres at Bhubaneswar, Delhi, Hyderabad, and Pune. Various new services are now offered on Cloud including Application Programme Monitoring (APM) Service, Data Analytics (DA) Service, Resource Monitoring (RM) Service and Container Service. In order to cater to the projects envisioned under Digital India Programme and growing requirements of existing Projects, over 18,000 Virtual Servers were provisioned and allocated to over 1100 Ministries/Departments for e-Governance Projects.
Establishment of Mini-Clouds in States: NIC already had established Mini Clouds in four state units and are operational. During this year Mini Cloud setups have been made operational in ten state units of Assam, Bihar, Chandigarh, Chhattisgarh, Haryana, Karnataka, Kerala, Punjab, Rajasthan and Tripura.
Command and Control Centre
NIC has been offering services to the government through its 4 National Data Centres and 30 Mini Data Centres across the country. CCC has been set up keeping in view the requirement of a centralized facility to seamlessly monitor the availability of all these Centres and Cloud Services.Over 10,000 e-Governance applications are being hosted by these Centre's. CCC is providing users with a customized dashboard of Network Management System (NMS) to enable them to monitor their respective applications. NIC is also providing Application Performance Management (APM) through CCC to improve the availability, performance and functioning of critical applications.
Cyber Security
Network Security
The Network Security Division is in relentless pursuit of achieving CIA (Confidentiality, Integrity, and Availability) of ICT assets in NICNET through deployment of expert manpower, appropriate tools, and state-of-the-art technologies.
The Network Security Division (NSD) of NIC is engaged in assessment, planning, deployment and management of security devices and solutions across the NICNET in general and the Data Centres in particular. The security span of NSD comprises of all National and State Data Centres, over 1000 LANs of Govt. offices and MPLS networks, more than 2 Lakh endpoints and a series of networking devices deployed across the country. A dedicated team actively monitors real time attacks on 24×7 basis.
The Network Security Division (NSD) conducts Security Audit of Data Centres and Bhawan Networks on regular basis and on demand. Besides, review of the network audit performed by third party vendors in NICNET was also undertaken. Cyber Security Policies, Guidelines, Advisories and Standard Operating Procedure(s) are also being regularly prepared, updated and circulated to the NICNET users. Network Security Division is involved in vulnerability assessment of ICT assets in Physical, Virtual, and Cloud environments at regular intervals and on demand.The Network Security Division manages the 24×7 Security Monitoring Centre to ensure real time monitoring, detection, prevention, analysis and reporting of Cyber threats and attacks.
Application Security
NIC is formulating and updating the Security Policies for NICNET as and when required. Security Audit of Web Applications / Websites, Penetration Testing and Vulnerability Analysis,SSL compliance testing, Version Detection for application hosting environment with infrastructure compliance checks are also done as per user requirement. Critical Web applications are secured through Web Application Firewall (WAF) to counter Application layer threat, Management and administration of deployed WAF solutions configuration of critical sites including CMF (Drupal) based portals, WAF service support at NIU Hyderabad for non-compliant web applications and 24×7 monitoring service. The center provides Incident Handling and Malware Analysis, Sanitization of security controls based on analysis results and Issuing advisories to NICNET users.
Video Conferencing & Webcast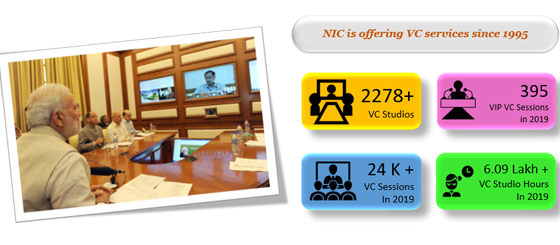 Video Conferencing
Videoconferencing facilitates direct interaction with concerned stake holders and save time & Money.Videoconferencing services are being used for monitoring of various Government Projects, Schemes, Public Grievances, monitoring of law and order, Hearings of RTI cases, Tele-education, Tele-medicine and Launching of new schemes etc.NIC's VC services are being extensively used by Hon'ble Prime Minister, Union Ministers, Governors, Chief Ministers of states, Cabinet Secretary and Chief Secretaries, Chief Information Commissioner and various other senior officials across country.NIC is also providing web-based desktop videoconferencing services to users of various departments of central government & state governments.
Webcast
NIC has been providing live/on-demand webcast services to Central and State Government for important National, International and regional, educational events and conferences. Live webcast services are provided for government TV channels such as Lok Sabha TV, Rajya Sabha TV, Doordarshan News, DD-Kisan, UGC – CEC higher educational channel, DD Punjabi on 24×7 basis.
Important events such as Union Budget speech, President's address to the nation, Prime Minister's Mann Ki Baat& other speeches, Independence and Republic Day celebrations at New Delhi, Air Force Day, Dance and cultural Festivals, PIB press conferences, NIC Knowledge sharing, NKN events, proceedings of state assemblies, other national and international events/conferences like make in India, Skill India, Start-up India, Digital India, International Yoga Day were covered.